Scholarship Donor - RAP
TransCanada Pipelines Limited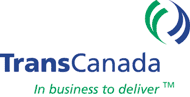 Donor Since:
Number of Scholarships:
Websites: TransCanada Pipelines Limited
Scholarship Information: TransCanada Pipelines Limited RAP Scholarship
History:
TransCanada PipeLines Limited is a leading North American energy company, focused on natural gas transmission and power services. Our network of about 38,000 kilometres (23,600 miles) of pipeline transports the majority of western Canada's natural gas production to the fastest growing markets in Canada and the United States. TransCanada also owns, controls, or has under construction about 2,250 megawatts of power - enough to meet the needs of more than two million average households.

Our story began in 1951 with the development of the Canadian Mainline. Today we have grown into one of North America's leading energy companies.

TransCanada is...

Financially sound.
TransCanada has a disciplined and steady approach to maintaining and using our strong financial position. As a result, we are stronger than many of our competitors in today's volatile market. We continue to deliver solid value and returns for our shareholders.

About good people.
Our 2,500 skilled employees work to support our pipe and power businesses across Canada and in the eastern United States. TransCanada aims to be one of the Top 50 companies to work for in Canada, with employees who feel valued and engaged. We are committed to employee and leader development and offer competitive compensation and benefits.

A transnational business.
We believe that by developing positive relationships with communities impacted by our activities, we can work together to achieve respective goals and preserve mutual values.

Connected with our communities.
We create meaningful partnerships with not-for-profit organizations in Canadian communities where we live, work and conduct our business. These partnerships are within our community investment support categories of education, health and human services, environment and civic investment.

About pipe and power development.
Our strong financial position allows us the flexibility to invest in our core businesses of natural gas transportation, power generation and energy marketing. We aim to grow through potential acquisitions, mergers and other commercial relationships.

Pursuing development of a northern pipeline.
TransCanada is well positioned to play a key role in getting natural gas from northern Alaska and the Mackenzie Delta to the growing North American marketplace. We have the experience and know-how necessary to help northern producers bring their natural gas to market.

Committed to our values.
Our values are the principles that help guide and connect our employees and our business. We want our values of social responsibility, passion, integrity, results, innovation and teamwork to be obvious in everything we say and do.

Concerned about safety and the environment.
We are committed to protecting the health and safety of our employees as well as the communities and environments where we operate. TransCanada's safety performance record is among the best in our industry, and we believe operating safely and responsibly is the right thing to do and provides us with a competitive advantage.