The Roles of System Partners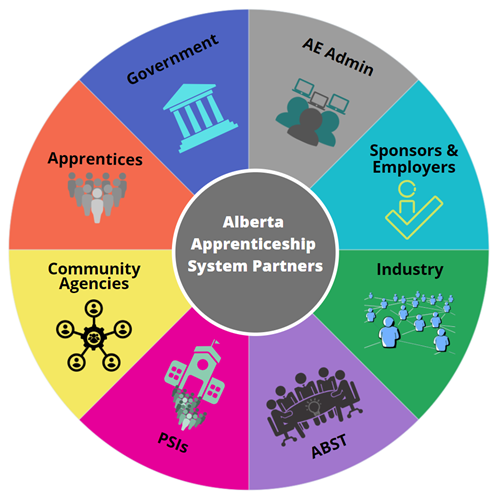 Role of Government/the Minister
Accountable for outcomes of Alberta's post-secondary education system, including apprenticeship.
Provide funding to public post-secondary institutions that deliver apprenticeship classroom education.
Establish apprenticeship education programs and industry training programs, and their education credentials.
Delegate department staff to serve as Registrar and Administrator.
Appoint members to the Alberta Board of Skilled Trades.
With input from the board and industry partners:

Designate trades and their trade certificates.
Prescribe which activities are restricted in a designated trade.
Role of Advanced Education (AE) Administration
AE Administration includes all Apprenticeship and Industry Training (AIT) staff as well as other AE staff involved in financial, communications, and IT matters. 
Engage with apprenticeship system partners and stakeholders.
Provide secretariat support to the Alberta Board of Skilled Trades.
Oversee the funding for classroom instruction at public post-secondary institutions.
Develop and monitor key performance indicators.
Work with other jurisdictions to administer the Red Seal program.
Collect and analyze data about the apprenticeship system.
Develop and administer IT programs and services to support apprentices and employers.
Promote apprenticeship education programs.
Conduct compliance and enforcement activities.
Serve as Registrar and Administrator.

As the Registrar, AE registers apprentices, supports and tracks apprentice progression, monitors compliance, and issues education credentials.
As the Administrator, AE evaluates credentials, certifications, assessments and work experience; monitors compliance; facilitates access to Red Seal testing and endorsements; and issues trade certificates.
Role of Sponsors
Sponsors may include employers, consortia of employers, labour organizations, non-profit organizations and more.
Sponsor responsibilities include:
Sign Apprenticeship Education Agreements with apprentices.
Employ or find employment for apprentices.
Provide or ensure high-quality paid on-the-job instruction through mentorship.
Work with other sponsors, as needed, to provide apprentices with experience in the full scope of the profession.
Support apprentice progression and completion.
Ensure mentor responsibilities are met, including mentor to apprentice ratios.
Encourage and enable progression and completion of an apprenticeship program.
Maintain employment records for apprentices.
Ensure forms, documents, and records of period completion are submitted
Mentors are supervising journeypersons or individuals that hold a recognized trade certificate that support apprentices with on-the-job education through effective communication and guidance.
Mentor responsibilities include:
Providing opportunities for apprentices to develop knowledge and skills
Assessing apprentice competence and providing feedback
Providing a supportive learning environment that fosters continuous development
Incorporating knowledge and skills learned at school with on-the-job education
Role of Industry
Industry partners are defined as entities that are provincial in scope and provide labour market intelligence and advocacy.
Provide advice on the skills, knowledge, and competencies needed to successfully work in a field to inform education and trade certification standards.
Provide advice to the Alberta Board of Skilled Trades about trends and issues impacting industries and designated trades in Alberta.
Identify talent development needs to support success and growth of businesses and occupations in Alberta.
Promote careers in the skilled trades.
Maintain relationships with post-secondary institutions.
Role of the Alberta Board of Skilled Trades
Develop and implement a strategy for industry involvement.
Define the scope of profession for a designated trade.
Advise the Minister on designation of trades, restricted activities, and who may perform them.
Establish standards/requirements for trade certification.
Provide advice on skills, knowledge, and competencies that should be included in apprenticeship programs related to skilled trades.
Recognize trade certificates from other jurisdictions.
Provide strategic and policy advice to the Minister and department regarding the continued evolution of skilled trades in Alberta.
Role of Post-Secondary Institutions
Develop curriculum for classroom instruction (theory/labs/shop).
Deliver classroom instruction to apprentices.
Participate in development of, and conduct apprentice assessments related to, classroom instruction.
Develop and deliver learning supports for apprentices.
Provide input to Advanced Education, the Alberta Board of Skilled Trades, and industry stakeholders regarding apprenticeship education in Alberta.
Maintain relationships with industry stakeholders.
Role of Community Agencies
 Community Agencies are non-profit organizations that promote the skilled trades and may deliver preparatory programming.
Help prepare Albertans for apprenticeship education and working in the skilled trades.
Build awareness of professions and careers.
Connect Albertans to employers.
Support participation of underrepresented groups and Albertans with barriers to employment
Role of Apprentices
Participate in their apprenticeship education program.
Demonstrate competency in on-the-job learning.
Attend classroom instruction as required to progress in the program.
Keep records up-to-date.
Submit any forms or documents required.