Skills for the 21st Century
The world is evolving at a rapid pace becoming faster, more integrated, and competitive. Albertans need 21st century skills, knowledge, and competencies to enjoy fulfilling lives and careers at every stage of life. Alberta's economic recovery and growth relies on employers and job creators being able to:
access the talent they need to achieve their innovation potential,
respond to current business challenges, 
grow their competitive advantage, and
develop a skills ecosystem around targeted economic sectors expected to drive prosperity.
Albertans need to access opportunities for education, training, upskilling, and reskilling across a continuum of skills training.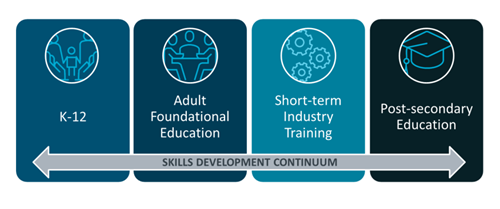 The skills development continuum includes a range of education and training opportunities to meet the needs of all Albertans. Creating lifelong learning opportunities requires pathways to support learners moving and progressing from one educational experience to another.
In recognition of this evolving skills ecosystem, in September 2020, the Skills for Jobs Task Force recommended that the Apprenticeship and Industry Training Act and its regulations be rewritten to meet the emerging needs of Alberta. The result was the new Skilled Trades and Apprenticeship Education Act.