Red Seal Endorsement
The Red Seal is a recognized standard in Canadian jurisdictions, one that employers look for as an indication of the skill and competency level of employees in the trades.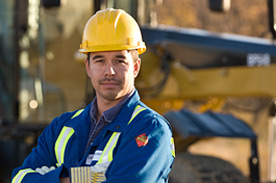 Tradespeople who hold a trade certificate with a Red Seal have demonstrated that they have met the national standard in that trade.
Red Seal Trades
There are more than 50 Red Seal trades in Canada. In Alberta, 39 of these trades are designated. See Red Seal Trades in Alberta
How to Earn your Red Seal Endorsement
Registered Apprentices
Alberta Apprentices in Red Seal trades have the opportunity to write the Red Seal exam after they complete all requirements for Alberta journeyperson certification. 
Instructors will provide details during the final period of classroom instruction. 
Alberta Journeypersons, Qualification Certificate holders, and Occupational Certificate holders
If you didn't earn your endorsement when you were first certified, you can apply to write the Red Seal exam at any time afterward. To be eligible, you need to hold one of the following certifications in a Red Seal trade or occupation:
Journeyperson Certificate issued in Alberta
Qualification Certificate issued in Alberta or any other Canadian province or territory
Occupational Certificate issued in Alberta or any other Canadian province or territory 
To apply for a Red Seal exam: 
Click Apply Now below.
Sign in or create an account.
Click the green Apply for Services button.
Click Start Application.
Select your trade.
Select the Interprovincial Standards Red Seal Program option.
Complete and submit your application following the prompts on the screen.
Recognized Trade Certificate Holders
Experienced Tradespersons without Certification
Apply for the Trades Qualifier - Work Experience program to qualify for your Alberta Journeyperson Certificate if:
We'll verify your work experience and assess your practical skills in the trade, and then you can schedule your Red Seal Exam. 
 Visit the Red Seal website to learn more.